Deprecated
: get_the_author_ID está
obsoleto
desde a versão 2.8.0! Use get_the_author_meta('ID') em seu lugar. in
/home/pedromig/public_html/ourodetolo/wp-includes/functions.php
on line
4713
Deprecated
: attribute_escape está
obsoleto
desde a versão 2.8.0! Use esc_attr() em seu lugar. in
/home/pedromig/public_html/ourodetolo/wp-includes/functions.php
on line
4713
Deprecated
: attribute_escape está
obsoleto
desde a versão 2.8.0! Use esc_attr() em seu lugar. in
/home/pedromig/public_html/ourodetolo/wp-includes/functions.php
on line
4713
Primeiro, para entenderem o trocadilho do nome, posto essa informação do Wikipédia.
"House of Cards é uma série norte americana de drama político criada por Beau Willimon para o serviço de streaming Netflix. Tem como protagonista Kevin Spacey como Francis Underwood, um ambicioso político que almeja um alto cargo público em Washington."
Leram? Já ouviram aquela história de "Qualquer fato que lembre a vida real é mera coincidência?" Pois é, não é o caso aqui. A série faz enorme sucesso, também no Brasil, por mostrar bem como é a classe política. Lembra o momento atual brasileiro e um político especificamente.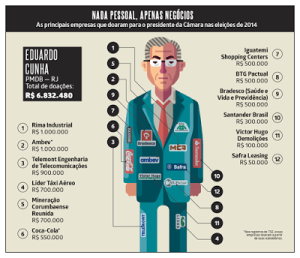 Eduardo Cunha.
Semana passada a proposta de redução da maioridade penal não passou na Câmara de Deputados. O que ele fez? Fez uma manobra apresentando novamente a proposta no dia seguinte, logrando aprovar a mesma.
Uma manobra, como eu disse acima. Um fato que vai contra a Constituição e levou o assunto ao STF. Uma manobra de fazer Eurico Miranda aplaudir de pé. E não foi a primeira vez.
Ele não é o dono do Brasil, mas está doido para ser. House of Cunha. Não é o único, mas é o que está mais próximo disso.
Virou presidente da Câmara graças a manobras do PMDB com o PT. Sim, com o apoio do PT, o mesmo PT que agora se torna vítima dele. Faz do Congresso sua casa. Faz conchavos, chantageia, torna o governo seu refém e manipula a Constituição a seu bel prazer. Por trás disso uma horda pentecostal, que em nada lembra os ensinamentos de Cristo e a palavra do verdadeiro protestante.
Eduardo Cunha é símbolo desse tempo de ódio e horror que algumas pessoas, com ajuda da mídia, tentam empregar. No braço religioso Silas Malafaia, no grupo militar e que tenta fazer as pessoas terem saudade da ditadura Jair Bolsonaro.
Se aproveitam de um momento de fragilidade do governo, de um vazio de poder. Os problemas de corrupção continuam, agravados pelo problema econômico (esse sim mexe com a população). Apesar da violência não ter aumentado está mais na mídia; apesar do crime feito por menores ser ínfimo parece que tudo de ruim que ocorre agora no Brasil foi feito por menores de 18 anos.
Junto a tudo isso uma presidente que parece estar perdida. Sem base de sustentação, em meio à crise econômica e moral do país, sem carisma e que passa por seu pior momento. É o tal vazio de poder que disse acima.
Vazio de poder, caos apregoado por mídia. Taí o cenário perfeito para gente como Eduardo Cunha. Taí o cenário perfeito à ascensão do ignorante.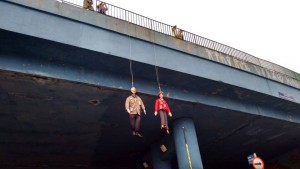 Porque o ignorante aproveita para se expressar e exalar o mau odor da idiotice quando o caos se instaura, quando o sábio se cala e os covardes se agitam. Só em um país como o nosso atual imbecis aproveitam para atacar os outros sem dó nem piedade. Para atos racistas como contra a Maju, a linda apresentadora da previsão do tempo do Jornal Nacional. Só em um país inebriado por falsos profetas e seu tempo de horror acham que prisão resolve mais que escola.
Vivemos um emburrecimento cultural e analfabetismo social. A sociedade regrediu, coisas que eram repugnantes 20, 30 anos atrás se tornaram aceitáveis. Vazio que Eduardo Cunha preenche.
Fizeram tudo de um jeito que a Presidenta Dilma virou culpada de toda as mazelas do país – e ela não é nem a maior culpada dentro do PT. Eduardo Cunha disputando poder com ela se transformou no anti-Dilma e por isso aplaudido pelos analfabetos sociais mesmo tendo contra ele (nem contra Dilma existem) acusações de corrupção. Pessoas claramente começam a falar em impeachment mesmo sem motivos plausíveis. Um golpe de estado disfarçado tendo apoio de parte da imprensa.
Quem lucra com o caos e a disseminação do medo? O Falso Messias.
E de vários candidatos a falsos Messias do Brasil atualmente Eduardo Cunha é o mais perigoso. Através dele podemos ter guerra civil, religiosa ou coisa pior.
Duvidam? Estudem sobre a Alemanha dos anos 20 e 30. O cenário não era muito diferente.
Radicalismo, de direita ou esquerda, ódio, pavor, violência, nunca levam a coisa boa. Levam a gente como Eduardo Cunha chegando ao poder.
E um dia a casa será realmente dele.
Twitter – @aloisiovillar
Facebook – Aloisio Villar
Infográfico: Revista Galileu